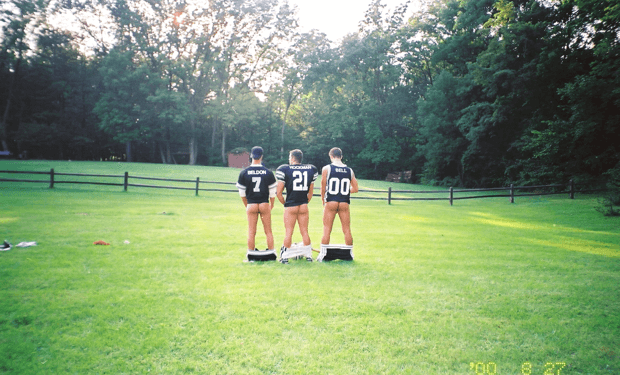 New Male Models Become Less Conservative After Moving to LA
By Shawn Petrovich of Totally Ripped of Los Angeles, which specializes in photography and video of fitness models.
Many experienced models were once apprehensive about disrobing while they lived in their hometown. Then they move to a large city and lose Model Jobs to models who are willing to pose nude. They get tired of losing jobs to other models and learn to be less conservative if they want to get hired for modeling jobs. Moving to a big city changes their attitude.
Check out what makes other guys successful. Modeling is very competitive. Being good-looking is not enough to become successful. The open-minded models get hired for all the best modeling jobs because they are willing to pose for nude or semi-nude photos and are generally more open-minded and easier for photographers to work with. So, photographers choose the less shy-guys more.
Uptight College Guys Don't Go Far
Photographers prefer to work with models who have a positive attitude and are easy to work with. No photographer wants to expend energy arranging for a young guy to come to a photo shoot from across the country only to hear him keep repeating what poses he will not pose for, which poses are "gay" or say he will not pose for a bunch of poses because his parents will not like them.
Real modeling jobs involve images that appeal to people nationwide – not just the people who live in the model's hometown or neighborhood.
Avoiding Embarrassment
Some guys are preoccupied with avoiding embarrassment. They fear if they pose unclothed, someone will later come up to them and pull out a photo of them and be embarrassed. So, what happens if you pose for an artistic nude? How can a beautiful photo of you be anything less than positive? If you make sure you only pose for photographers who consistently create artistic photos, who cares who sees it? If it is an artistic photo, show everyone! That way, the photo cannot be a source of embarrassment!
New models can try things out by posing for photos in which their face is not shown. Professionals who can market you want an artistic photo that makes a guy's body look beautiful unclothed, but do not need photos in which people could recognize the identity of the model.
Avoid Photographers Who Create Crotch Shots
However, a model's penis should not be the emphasis of the photo. Too much emphasis on your penis in the picture does not help you because it makes the photo into a "crotch shot." Crotch shots usually have the penis centered in the picture - so that it takes prominence. It is the first thing a viewer looks at and does not have much artistic value. Body position, artistic detail and creative poses are most important.
If you are ready to become a male model, consider our innovative advice on how to get your modeling career started locally, on your college campus. Its a fun way for you and 11 of your on-campus buddies to take a giant leap ahead of other aspiring models!
The advice included on this page is courtesy Totally Ripped Photography of Los Angeles.
Comments